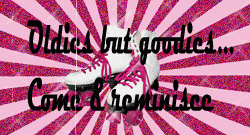 Where: Serendipity Scrapbooks
www.serendipityscrapbooks.com
When: Feb 20 - Feb 22 with precrop challenges starting Feb 13
Time: All challenges will be up and ready by 3 pm EST on Feb 20
Inspiration: Over 20 challenges and prizes will be awarded
Mark you calendars for a fun filled weekend with Serendipity Scrapbooks on February 20, 2009 through February 22, 2009. Serendipity Scrapbooks will be having their Flash Back Reunion Crop. Kristen and the gang will be celebrating the 3rd Birthday of Serendipity Scrapbooks.
To help us celebrate, Serendipity has contacted all of the Design Team Alumni to be a part of this wonderful celebration crop! They will be having over 20 Design Team members here to help get your creativity flowing. Some of the Design Team Alumni that will be attending helped start the very first Design Tem at Serendipity.
We will be taking a little walk back through time during this crop. Do you remember Rainbow Brite, Mall Hair, 31 Flavors? We do and will help guide you through this little walk down memory lane.
Hope to see everyone there! It should be really fun!!!!!